About Renner & Company, Inc.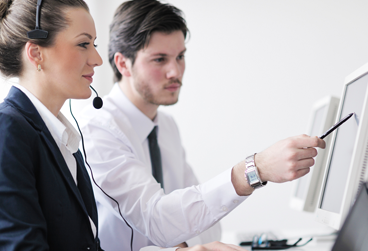 Founded in 1986 as James J. Renner & Associates (Later changed to Renner & Company) by Jim Renner as an accounting and tax practice, The Firm has been providing outstanding tax and accounting services in the Baltimore/Washington metropolitan area since its inception. The Firm has added staff and a partner over the years and, with the added personnel, came added capabilities. Renner & Company, as it exists today, is able to provide a wide range of services from bookkeeping services to tax returns. The Firm specializes in small to mid-size closely held businesses, with revenues ranging from $1mil to $30mil per year.
We work with businesses across all industry sects including: government and non-government contractors, retailers, professional service firms, wholesale distributors, real estate firms, restaurants and non-profits. Specifically when it comes to government contractors, the Firm works with businesses in the construction, technology and facilities maintenance industries, as well as non-profits receiving government funding.
Renner & Company works directly with business owners providing the following services:
Bookkeeping services
Business valuations
IRS problem solving
Loan acquisition services
Management consulting
Payroll services
Reviewed financial statements
Tax planning
Tax preparation
The Firm differentiates itself from its competitors through the personal service, availability and responsiveness of the partners. Clients work directly with the two partners who consider themselves a vital part of the organization's management team. As a result of this commitment to client service, Renner & Company has been able to continue to grow through the years, establishing new, strong relationships with business owners throughout the Baltimore/Washington metropolitan area.
Matthew Brady, CPA
Matthew Brady, CPA joined the firm in 2009 bringing with him 13 years of experience in both public accounting and the private sector. Matt spent the first part of his career in a mid-sized public accounting firm performing attestation services (audits & reviews) as well as corporate and personal tax work. He then took his skill set to the private sector, working initially as the director of finance for an $11mil non-profit and then as the chief financial officer for a $50mil contractor. Eventually he decided to get back into public accounting and partnered with Jim Renner in 2009 to form Brady, Renner & Company. Matt works with clients across all industries, but specializes in contractors, both government and private, and non-profit organizations. His expertise includes financial statement audits, tax planning, business valuations and budgeting.
Contact Matt Brady
Jamers Renner, EA
James J. Renner, EA started the firm in 1986 in Alexandria, Virginia. The firm specialized in small business accounting, consultation, tax planning and income tax preparation. The firm grew rapidly and merged with an established CPA firm in 1990. James J. Renner eventually sold his interest to the firm in 1992 and reestablished the firm in Crofton, Maryland. He specializes in all aspects of tax law affecting individuals and small businesses. He also specializes in IRS and State of Maryland representation pertaining to, but not limited to, income tax audits (both individual and business), payroll tax compliance matters and all other IRS and State of Maryland tax collection areas. He is also well versed in the preparation of Offers in Compromise, installment agreements, eradication of wage garnishment and levy enforcement for both the IRS and State of Maryland.
Contact James Renner
As a member of the BPWF Board of Trustees, I have been most pleased by the responsiveness, accuracy, attention to detail and thoughtful consideration provided by the team at Renner & Company. In particular, Matt Brady, our account partner has made our transition to his firm seamless and highly successful. I highly recommend the services of Renner & Company if you are looking for a services provided by their firms.

Business & Professional Women's Foundation
Without reservation, I highly recommend the Renner & Company. The partners are very professional, patient, reliable and very knowledgeable. The support staff are also very professional, our calls and questions are always answered on a timely basis. For the past two years, They have completed our A-133 audit, a requirement by the DC Government for the subsidy program which is a tedious review of EVERYTHING about our business.

Ideal Child Development Center
I wanted to let you know how much I appreciate the way you and your firm have taken charge of our Accounting issues, questions and concerns. I have been in business for some 10 plus years and have had 3 accountants and until now did not feel like anyone was listening. I also appreciate that you will explain the numbers to me since I am not of the accounting type. Thank you and I look forward to working with you long into the future.

J's Associates
Renner & Company has been an important part of Old South Country Club's financial and business planning team. They are there all year long, not just at tax time, to make sure we are on the right track. Not only proficient in all the technical and analytical aspects, but they demonstrate an open, engaging and collaborative management style. The team is;very easy to work with and they communicate effectively with not only me, but my entire team as well. This firm is a pleasure to work with and would be a valued asset to any organization.

Old South Country Club
For a number of years Trinity Technology Partners, Inc has entrusted the accounting services of Brady, Renner & Company. As a small business operating in the Federal Government space, it is essential that Trinity have the proper accounting setup. Through the exemplary support of Brady, Renner & Company, Trinity now has solid accounting practices and an accounting system structure that both meets and exceeds Government and customer accounting requirements. The knowledgeable, professional, and experienced folks at Brady, Renner & Company have taken what was an initial nightmare for us and made it quite seamless.

Trinity Technology Partners